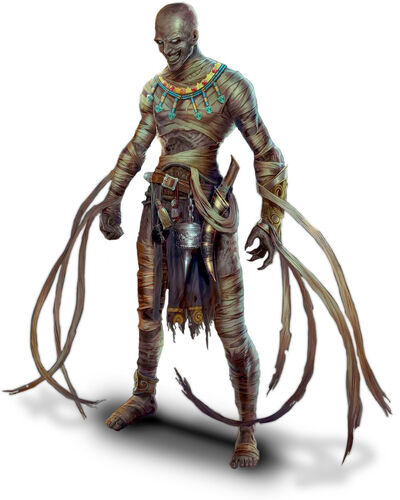 Description
Necromancers are despicably evil beings who, viewing life like a disease, worship dark, forbidden Gods such as Nephastus or Sorban, form pacts with evil forces & sacrifice their very souls for power. Necromancers are all diabolically evil, as their power is drawn from pain, suffering and slaughter. While other adventurers may have scant regard for the life of others, Necromancers take this a stage further & consider even their own lives an affliction. Thus they strive towards the ideal of Undeath - that state where, with eternal longevity, they can spread misery forever!
It is not currently possible to become a Necromancer initially. Instead you must begin as another Class &, once you have discovered how, forsake your current road for one much darker. Likewise the path of a Necromancer is one of fevered commitment & as such they may not Multi-Class, nor may others Multi-Class into their dark order. As Necromancers advance they become less & less like the living creatures they once were & sometimes it is necessary to die in order to advance, whist at others the sacrificed blood of a murdered innocent will be necessary...
Drakenwood as a whole considers Necromancers to be reprehensible, thus they may ALWAYS be killed out of hand by other adventurers without repercussions, which makes the Necromantic road very difficult indeed! They are not, however, without great guile & at low levels Necromancers survive more through dark cunning than raw might.
Necromancers both fine Intelligence & Wisdom to understand the dark arts, plus some Dexterity to allow their ungodly Rituals to be performed.
Wizard in Charge: Larnen
'Deputy Wizard: ??
Stats
| Charisma | Constitution | Dexterity | Intelligence | Strength | Wisdom |
| --- | --- | --- | --- | --- | --- |
| S | S | P | P | S | P |
Skills
| Combat | Weapons | Magic | Other |
| --- | --- | --- | --- |
| Attack: Secondary | Blade: Tertiary | Faith: Primary | Bargaining: Tertiary |
| Defence: Secondary | Knife: Primary | Insight: Primary | Murder: Primary |
| Melee: Tertiary | Staff: Secondary | Magic Attack: Primary | Riding: Tertiary |
| | Thrown: Secondary | | Stealth: Secondary |
| | Whip: Primary | | |
Guild Hall
Location: Unknown
Description: Unknown
Guild Features
Unknown
Necromancer Rituals
| Name | Level | Stat/Skill | Description |
| --- | --- | --- | --- |
| Animate Dead | | | Raise a corpse as a Follower |
| Corrupt | | | Lower foes alignment |
| | 30 | | |
| | 50 | | |
| | 100 | | |
| | 125 | | |
Necromancer Races
Elf: