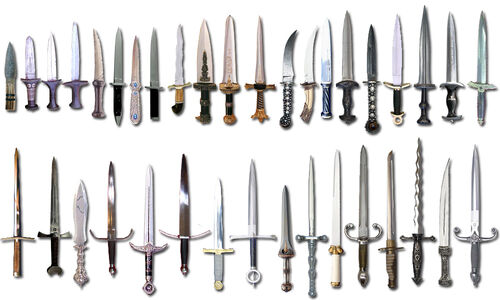 Description
Knives are extremely light piercing or slashing weapons, that utilise a mix of dexterity and strength to hit, though do not grant a bonus to damage for strength and are generally 2-3 Levels weaker than standard weapons of equal Skill requirement. Rogues have a great many tricks they may perform with daggers, as do Necromancers. They may be stored in small sheaths or bags, taking up little space.
Races with modifiers to this skill include Giants (-10), Faeries (+5) and Halflings (+10).
Rogue Assassins receive a bonus to knife twice, gaining +5 each time they do so.
Certain magical effects have been known to grant a temporary +5 bonus too. (Q.I)
Name
Skill
Weight
Mob
Area
Type
Notes
Baby Bear Claws
0
6lbs
Baby Bear
NewbieLand, Witches Cottage
Pierce
Bear Claws
0
7lbs
Papa & Mama Bear

NewbieLand, Witches Cottage

Pierce
Blackmarket Knife
0
8lbs
Caithan
NewbieLand, Gnoll Camp
Pierce
Blunt Knife
0
7lbs
Kobold Skeleton

Newbie Forest, Burial Grounds

Pierce
Bone Knife
0
7lbs
Dernathok
Drakenwood
Pierce
Chisel
0
5lbs
Orc Sculptor

Valley of the Orcs, Dwarf Forge

Pierce

Claw
0
7lbs
Beast

NewbieLand, Nomad Camp

Pierce
Cleaning Cloth
0
8lbs
Large Giant
Withered Peaks, Giant House
Pierce
Dwarf Dagger
0
8lbs
Dwarf
Aldersford, Maze
Pierce
Dwarven Axe
0
7lbs
Dwarf
Mirrortown, Tower of Trials (4U)
Pierce
Fine Dagger
0
7lbs
Elite Warrior
Newbie Forest Kobold Tower
Pierce
Fork
0
7lbs
Diner

Aldersford, Temple of Rehann

Pierce
Gardener's Trowel
0
7lbs
Gardener
Alders Way, Wuzzietown
Pierce
Gnome Knife
0
7lbs
Various
Alders Way, Gnome House
Pierce
Hand Axe
0
7lbs
Guard
Withered Peaks, Orc Fortress
Pierce
Hobgoblin Knife
0
8lbs
Various Hobgoblins

Withered Peaks, Goblin Caves

Pierce
Kobold Dagger
0
7lbs
Various
Newbie Forest, Kobold Tower
Pierce
Large Mandibles From A Warrior Ant
0
8lbs
Warrior Ant
NewbieLand, Ant Tunnels
Pierce
Large, Metal Spring
0
5lbs
Zebedee
Alluveai's Forest, Magic Land
Pierce
"insert" "bounce"
Mandibles From A giant ant
0
5lbs
Giant Ant
NewbieLand, Ant Tunnels
Pierce
Lower case name is worse
Mandibles From A Giant Ant
0
6lbs
Various Ants
NewbieLand, Ant Tunnels
Pierce
Higher case name is better
Mandibles From A Guard Ant
0
7lbs
Guard Ant
NewbieLand, Ant Tunnels
Pierce
Meat Skewer
0
6lbs
Elven Ranger
Newbie Forest, Elf Camp
Pierce
"pull meat"
Metal Chisel
0
5lbs
Brennan
Drakenwood, Meadow
Pierce
Minotaur's Fang
0
7lbs
Baby Minotaur
Aldersford, Maze
Pierce
Causes Minotaur to attack you
Pair Of Knitting Needles
0
5lbs
Grandma Hobbit
Aldersford, Hobbitsville
Pierce
"knit"
Porcupine
0
6lbs
Soldier
NewbieLand, Gnoll Camp
Pierce
Rusty Dagger
0
8lbs
"search mounds"
Drakenwood, Dump
Pierce
Rusty Razor
0
7lbs
Suicide Victim
Withered Peaks, Haunted House
Pierce
Sharp Dagger
0
7lbs
"search bushes"
Outlands
Pierce
Sharp Rock
0
6lbs
Mutant Orc

Mirrortown, Dwarf Forge

Pierce
Silver Dagger
0
7lbs
"search cloak"
Withered Peaks, Goblin Caves
Pierce
Slim Dagger
0
7lbs
Goblin Archer
Mirrortown, Dwarf Forge
Pierce
Small Iron Knife
0
5lbs

Reznor (Vendor)

Mirrortown

Pierce
Small Mandibles From A Baby Ant
0
5lbs
Baby Ant
NewbieLand, Ant Tunnels
Pierce
Small Pixie Knife
0
7lbs
Various Pixies
NewbieLand, Pixie Village
Pierce
Small Trowel
0
5lbs
Bethany Milton
Drakenwood, Watermill
Pierce
"dig"
Sprite Stinger
0
6lbs
Sprite
Mirrortown, Tower of Trials (2U)
Pierce
Stiletto Knife
0
7lbs
Reznor (Vendor)
Mirrortown
Pierce
Werewolf Claws
0
7lbs
Werewolf
NewbieLand, Arboreal Battleground
Pierce
Butchers Knife
6
9lbs
Chef Andre & Jake
Aldersford
Pierce
Courtier's Dagger
6
9lbs
Knave
Aldersford, Maze
Pierce
Hippopotamus Tusks
6
9lbs
Mother Hippo
Jungle, Watering-Hole
Pierce
Jaguar Claws
6
9lbs
Jaguar
Jungle
Pierce
Light Steel Dagger
6
9lbs
Reznor (Vendor)
Mirrortown
Orc Knife
6
9lbs
Soldier
Withered Peaks, Orc Fortress
Pierce
Orc Knife
6
9lbs
Gulag
Jungle, Ruins of Sparsis
Pierce
Venomous Dirk
6
7lbs
Redeye

Newbie Forest, Kobold Tower

Pierce

Poisoned. 

Neg. align. req or it cuts/poisons you.
Werewolf Claws
6
9lbs
Werewolf
Q.I
Pierce
Q.I
Black Knife
12
10lbs
Large Giant
Withered Peaks, Giant House
Pierce
Curry Comb
12
10lbs
Orville
Sherwood, Nottingham Castle
Pierce
Curved Dagger
12
10lbs
Ghost of Alcaar
Omanii Desert, Buried Pyramid
Pierce
Jagged Dagger
12
10lbs
Flich
Drakenwood, Roach Street
Pierce
Jagged Rock
12
10lbs
Chaos Worshipper
Drakenwood, Underground Caves
Pierce
Long Knife
12
10lbs
Guido
Outlands, Rogue Caves
Pierce
Mermaid Dagger
12
10lbs
Merman
Undurin Ocean, Mer Island
Pierce
Orc Dagger
12
10lbs
Various Orcs
Great Western Highway, Orc Invasion Event
Pierce
Small Dirk
12
10lbs
Distiller
Aldersford, Waterfall
Pierce
Dirk
18
10lbs
Bandit Leader
Aldersford, Hidden Clearing
Pierce
Huge Mandibles from the Queen Ant
18
10lbs
Queen  Ant
NewbieLand, Ant Tunnels
Pierce
Hunter's Knife
18
10lbs
Kobold Hunter
Alluveai's Forest
Pierce
Large Meat Cleaver
18
10lbs
Alfonce
Alforpia, Castle
Pierce
Small Knife
18
10lbs
Lathanel
NewbieLand, Overgrown Path
Pierce
Steel Dagger
18
10lbs
Lytira (Vendor)
Valena, Brenhaven
Pierce
Thin Dagger
18
10lbs
McGammon
Sherwood, Nottingham Castle
Pierce
Unicorn Horn
18
10lbs
White Unicorn
Mirrortown, Tower of Trials (8U)
Pierce
Curved Dagger
24
12lbs
Villager
Alforpia, Plague Village
Pierce
Ivory Dagger
24
12lbs
Various Highwaymen

Drakenwood, Rogue Caves

Pierce
Jeweled Dagger
24
12lbs
Pharaoh
Omanii Desert, Pharaoh's Pyramid
Pierce
Lizard Talon
24
12lbs
Various Orcs
Great Western Highway, Orc Invasion Event
Pierce
Long Knife
24
12lbs
Guido
Drakenwood, Rogue Caves
Pierce
Raven Beak
24
12lbs
Large Raven
Sherwood, Nottingham Castle
Pierce
Shoddy Bandit Dagger
24
12lbs
Wiry Bandit
Omanii Desert, Bandit Caves
Pierce
Thin Stalactite
24
12lbs
"break stalactite"
Jungle, Jungle Cave
Pierce
Bandit Dagger
30
13lbs
Various Bandits
Omanii Desert, Bandit Caves
Pierce
Bird Claws
30
13lbs
Tired Falcon
Jungle
Druids/Rangers only
Crystal Dagger
30
13lbs
Wererat Leader
Aldersford, Hobbitsville Tunnels
Pierce
Curved Barded Dagger
30
13lbs
Rand
Sherwood, Nottingham Castle
Pierce
Damage special
Dainty Knife
30
13lbs
Thug
Drakenwood, Sewers
Pierce
Golden Dagger
30
13lbs
"search skeleton"
Tyrnafar, Wolf Caves
Pierce
Extra Damage special
Hand Dagger
30
13lbs
Royal Guard
Alforpia, Castle
Pierce
Poinjty Dagger
30
13lbs
"search weapon rack"
Drakenwood, Natural Caves
Pierce
% chance spawn
Silver Dagger
30
13lbs
Highwayman
Drakenwood, Were-Rat's Lab
Pierce
Kills Were-Rat
Spectral Shard
30
13lbs
Apparition
Outlands, Graveyard
Pierce
Neg. align. req? Non-Hero only
Thin Dagger
30
13lbs
"search weapons"
Jungle, Ruins of Sparsis
Pierce
Black Dagger
36
1st
Various Orcs
Great Western Highway, Orc Invasion Event
Pierce
Bronze Knife
36
1st
Guard
Swamp, Lizardmen Caves
Pierce
Bronze Knife
36
1st
Various Bandits
Rosfarren
Pierce
Carving Knife
36
1st
Sculptor
Rosfarren, Gnome Village
Pierce
Grimy Knife
36
1st
Thug
Drakenwood, Sewers
Pierce
Maybe Poisoned?
Large Icicle
36
1st
Frost Giant
Tyrnafar, Valley
Pierce
Leaf Dagger
36
1st
Steinbeck

Sherwood, Nottingham Castle

Pierce
Night Dagger
36
1st
Lysle
Outlands, Rogue Caves
Pierce
Demonic align. needed, Drains foes MP, lowers NightVision when wielded
Orc Knife
36
1st
Various Orcs
Great Western Highway, Orc Invasion Event
Pierce
Silver Dagger
36
1st

Various Orcs

Great Western Highway, Orc Invasion Event

Pierce
Silver?
Scout's Knife
36
1 st
Scout
Rosfarren, Gnome Village
Pierce
Sharp Machete
36
1st
N/A
Andurin Ocean, Cutlass Island
Pierce
"cut" clears foliage
Smurf Sword
36
1st
Hefty Smurf
Alluveai's Forest,. Smurf Village
Pierce
Twisted Knife
36
1st
Fredegar
Outlands, Hobbit House
Pierce
Bloodied Knife
42
1st
Smelly Ogre

Tyrnafar, 

Ogre Caves
Pierce
Crude Hand Axe
42
1st
Idett/Hrubr

Tyrnafar, 

Bear Keep
Pierce
Delvers Knife
42
1st
Various Rogues
Drakenwood, Sewers
Pierce
Hooked Dagger
42
1st
Elsaah
Swamp, Lizardmen Caves
Pierce
Lithesome Knife
42
1st
Trainee Assassin
Drakenwood, Natural Caves
Pierce
Metal Dagger
42
1st
Bodyguard
Omanii Desert, Evil Nomad Camp
Pierce
Metal Tongs
42
1st
Smithy
Omanii Desert, Evil Nomad Camp
Pierce
Extra APR special
Rat's Teeth
42
1st
Rat
Outlands, Tomb of Thebus
Pierce
Rusty Dagger
42
1st
Various
Andurin Ocean, Cutlass Island
Pierce
Sharp Ornate Dirk
42
1st
Waks Ohliehrecol
Rosfarren, Water Caverns
Pierce
Silver Pin
42
1st
Quenten
Realm of Illusion
Pierce
Small Blue Knife
42
1st
Water Sprite
Rosfarren, Abandoned Mine
Pierce
Translucent Knife
42
1st
Dolores
Drakenwood, Sewers
Pierce
Wicked Little Dagger
42
1st
Hrubr

Tyrnafar, 

Bear Keep
Pierce
Yataghan
42
1st
Stealthy Nomad
Omanii Desert, Evil nomad Camp
Pierce
Barbed Dagger
48
1st
Orog
Valena, Rolling Hills
Pierce
Bee's Stinger
48
1st
Killer Bee
Jungle
Pierce
Bronze Dirk
48
1st
Kris the Bandit OR in chest
Rosfarren, Orog Camp OR Rosfarren
Pierce
Bronze Stiletto
48
1st
Orog Armourer
Rosfarren, Orog Camp
Pierce
Cruel Dagger
48
1st
Orog
Valena, Rolling Hills
Pierce
Diamond Dagger
48
1st
Elspeth
Realm of Illusion
Ebony Dagger
48
1st
Mad Bandit
Omanii Desert, Bandit Caves
Pierce
Filleting Knife
48
1st
Uborme OR Chef

Tyrnafar, 

Bear Keep OR Omanii Desert, Evil Nomad Camp
Pierce
Green Dagger
48
1st
Kerry

Tyrnafar, 

Silver Mine
Pierce
Gutting Knife
48
1st
Kerg
Tyrnafar, 

Silver Mine

Pierce
Huge Cleaver
48
1st
Pygmy
Jungle, Jungle Path
Pierce
Huge Vicous Claws
48
1st
Demon
Rosfarren, Abandoned Mine
Pierce
Damage special
Large Dagger
48
1st
Null

Tyrnafar, 

Silver Mine
Pierce
Miners Chisel
48
1st
Skeleton

Tyrnafar, 

Silver Mine
Minotaur Horns
48
1st
Minotaur
Outlands, Tomb of Thebus
Pierce
Sharp Steel Dirk
48
1st
Buccaneer
Andurin Ocean, Cutlass Island
Pierce
Slim Knife
48
1st
Orgoff

Tyrnafar, 

Silver Mine
Pierce
Steel Claw
48
1st
Takiyah

Tyrnafar, 

Barbarian Camp
Pierce
Survival Knife
48
1st
Various Guards
Valena, Ruined Castle
Pierce
Vicious Dagger
48
1st
Orog
Valena, Rolling Hills
Pierce
Wicked Dagger
48
1st
Orog
Valena, Rolling Hills
Pierce
Black Athame
54
1st
Distraught Lady
Andurin Ocean, Deep Cavern
Pierce
Damage special, may lower Align?
Brown Knife of the Night
54
1st
Vishnik
Drakenwood, Sewers
Pierce
Sharpened
Dark Knife
54
1st
Various Orcs

Great Western Highway, Orc Invasion Event

Pierce
Farrier's Pick
54
1 st
Marrek
Rosfarren, Rathwiel
Pierce

Green Knife of the Night

54
1st
Vishnik
Drakenwood, Sewers
Pierce
Serrated, Poisoned?
Red Claws
54
1st
Red Abishai
Wandering Woods, Hidden Library
Pierce
Rusted Steel Dagger
54
1st
Various Guards
Valena, Ruined Castle
Pierce
Sanguinary Poniard
54
1st
Assassin
Drakenwood, Natural Caves
Pierce
Si-Sidhe Dagger
54
1st
Smith
Drakenwood, Sewers
Pierce
Has Warmage Staff specials
Small Brass Knife
54
1st
Bard
Rosfarren, Caer Aesclinn
Pierce
Superior Knife
54
1st
Various Natives
Andurin Ocean, Wolumbo Island
Pierce
Tanto
54
1st
Suru
Rosfarren, Obsidian Caves
Pierce
Always Poisoned
Werewolf Claw
54
1st
Werewolf
Outlands, Tomb of Thebus
Pierce
Blackened Dagger
60
1st
Saskia

Tyrnafar,

 Alaric's Keep
Pierce
Bone Knife
60
1st
Guardian

Tyrnafar, 

Silver Mine
Pierce
Bone Dagger
60
1st
Various Cultists
Jungle, Ruins of Sparsis
Pierce
Damage special, tied to night/moons?
Grey Dagger
60
1st
Grey Knight
Miathorn, Battlefield
Pierce
Meat Cleaver
60
1st
Cook
Valena, Ruined Castle
Pierce
Oni's Claw
60
1st
Various Oni
Rosfarrren, Obsidian Caves
Pierce
Ornate Steel Dagger
60
1st
Various Guards
Valena, Ruined Castle
Pierce
Polished Obsidian Dagger
60
1st
Kaelith
Miathorn, Battlefield
Pierce
Rogue Dagger
60
1st
Rogue
Jungle, Inner Jungle
Pierce
Sacrificial Dagger
60
1st
Various Necromancers
Omanii Desert, Temple of Ogkma
Pierce
MP Leech special
Savage Knife
60
1st
Jeritha
Drakenwood, Sewers
Pierce
Steel Dagger
60
1st
Hakon
Andurin Ocean, Heipvarga Island
Pierce
White Knife
60
1st
Scout
Sherwood, Cardin's Land
Pierce
Pos. align. req, may Resist Fear?
Gold Sacrificial Dagger
66
1st
Necromancer Deputy
Omanii Desert, Temple of Ogkma
Pierce
Green Claws
66
1st
Green Abishai
Wandering Woods, Hidden Library
Pierce
Lockbane
66
1st
Bishnak
Valena, Katkunra's Tomb
Pierce
Lockpick aid?
Rock Knife
66
1st
Dwarf
Omanii Desert, Dark Caves
Pierce
Rock Skean
66
1st
Dwarf Guard
Omanii Desert, Dark Caves
Pierce
Sailor's Dagger
66
1st
Baron
Andurin Ocean, Caverns of Night
Pierce
Snake Fang
66
1st
Crowe
Drakenwood, Sea Caves
Pierce
Termagant claw
66
1st
Termagant
Outlands, Tomb of thebus
Pierce
Tiger Knife
66
1st
Native Warrior
Andurin Ocean, Wolumbo Island
Pierce
Black Claws
72
1st
Black Abishai
Wandering Woods, Hidden Library
Pierce
Blackheart's Knife
72
1st
Blackheart
Outlands, Tomb of Thebus
Pierce
Bone Dagger
72
1st
Acolyte

Tyrnafar,

 Silver Mine
Pierce
+5 Murder?
Coral Dagger
72
1st
Various Sahuagin
Anduri Ocean, Caverns of Night
Pierce
Darktooth
72
1st
Crystal Caverns
Pierce
Heavy Knife
72
1st
Warlord

Tyrnafar, 

Silver Mine
Pierce
Kitchen Knife
72
1st
Cook
Miathorn, Castle
Pierce
Light Dagger
72
1st
Thurgar the Fighter
Omanii Desert, Rocky Beash
Pierce
Sharp Talon
72
1st
Fiyhr

Tyrnafar, 

Silver Mine
Slash
Sylvan Dagger
72
1st
Atomie
Alforpia, Poacher Camp
Pierce
Height restricted (Small)
Banded Dagger
78
1st

Centaur Hunter

Alforpia, Wild Forest

Pierce
Butchers Knife
78
1st
Catweasel
Alforpia, Poacher Camp
Pierce
Jet Dagger
78
1st
Black Knight
Miathorn, Battlefield
Pierce
Spiral Knife
78
1st
Arltose the Rogue
Omanii Desert, Rocky Beach
Pierce
Talon Of Lava
78
1st
Lava Mephit Loremaster
Omanii Desert, Volcano
Pierce\Fire
Extra damage special
Gnome Dagger
84
1st
Dark Elf
Andurin Ocean, Covah Island
Pierce
Wicked Jagged Dagger
84
1st
Various Bandits
Valena, Summer Highway (South Road)
Pierce
Golden Dagger
90
1st
Jaric
Valena, Sildenria Keep
Heavy Serrated Dirk
90

1st

Balding Bandits

Valena, Summer Highway (South Road)
Pierce
Serrated
Obsidian Dagger
90
1st
Zerin
Great Western Highway
Pierce
Raptaur Claw
90
1st
Raptaur
Sherwood, Burial Chambers
Pierce
Sharp Claws
90
1st
Head Abishai
Wandering Woods, Hidden Library
Pierce
Stalactite Dagger
90
1st
Various Trolls
Withered Peaks, Troll Caves (Lv.2)
Pierce
Unholy Dagger of Vaprak
90
1st
Priestess
Withered Peaks, Troll Caves
Pierce
Always Serrated, needed for "sacrifice" to open Lower Caves 
Needle Knife
96
2st
Retribution/Vengeance
Outlands, Rogue Guild
Pierce
Wears fast
Serrated Dagger
96
2st
Anti-Paladin
Omanii Desert, Volcano
Pierce
+5 Murder for Rogues. Serrated
Barbed Dagger
102
2st
Yellow Musk Zombie
Underdark, Foliage
Pierce
Damage special
Blue Dagger
102
2st
Malrissa
Valena, Silendria Keep
Pierce
Curved Dagger
102
2st
Cpt. Telak
Valena, Silendria Keep
Pierce
Fire Dagger
102
2st
Argalrax (Vendor)

Underdark, Ethelri-Cithan

Pierce/Fire
Damage special
Iron Dagger
102
2st
Drow Guard

Underdark

Pierce
Silvery Knife
102
2st
Duergar Guard
Underdark, Duergar Tunnels
Pierce/Cold
Damage special
Jade Dagger
108
2st
Various Guards
Underdark, Ethelri-Cithan
Pierce
Damage special
114
Serrated Jet Dagger
120
2st
Musk Zombie
Underdark, Foliage
Pierce
Always Poisoned and Serrrated
126
Adamantium Dagger
132
2st
Daltakar
Underdark, Ethelri-Cithan
Pierce