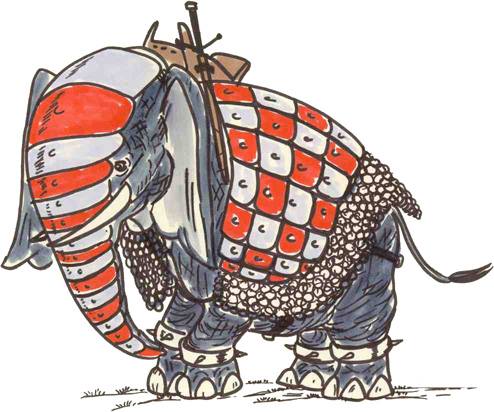 'Host: Elephant.org
'Port: 4444
Welcome to the Elemud Wiki
A collection of useful information for players of Elephant MUD including information on Races, Classes, Kit, Deeds, Gods, Maps and more! Here we hope to collect all the information Players have gathered over the years in one easy location. While you wont find any Exploration or Quest info on here (because some things really should be discovered through playing) just about everything else is!
Also, if you havent already, check out the Elephant webpage & Facebook group! The FB group is the most efficient way to contact other Players, see whats happening soon like MudMeets & take part in polls, whilst the main website for Elephant contains details on how to get started playing here (or to return in case you're a forgetful pensioner now who cant remember how TelNet works...).
A wild kitlist appears!
Thanks go to all the Players over the years like Grom, Lum, Bolen, Fayhra, Swifteye, Grima, Bogus, Eladriell and others who have taken the time to help others with sites similar to this. Here we hope to collect all the information out there, make sure its accurate and let everyone see it.
"It's been a while since there was a concise and accurate kit list for ele, but all that is about to change! Thanks to Larnen being awesome, fighters are now able to use their 'determine' skill to discover the exact skill requirements of armour and weapons on the mud, which should make the whole busniness of compiling a new list pretty simple. If you have the misfortune to have rolled one of the lesser classes (ie, you're a non-fighter) and stumble across an item that's not already on the list then mail me in-game with the name and drop location (if you know it), and I'll go check it out." Bogus.
ELEMUD WIKI NEEDS YOU!
Yes you! Do you know your class mechnics well enough to write a class guide? Have a brilliant levelling stratagy? An encyclopedic knowlege of the lunar cycles and their effect on spell failure rates? Awesome! Write about it!
Latest Activity
Ad blocker interference detected!
Wikia is a free-to-use site that makes money from advertising. We have a modified experience for viewers using ad blockers

Wikia is not accessible if you've made further modifications. Remove the custom ad blocker rule(s) and the page will load as expected.