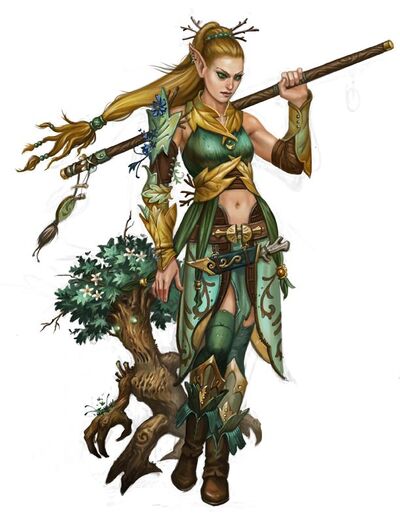 Description
Drawing their power from the elemental forces of Nature, Druids do not see Nature as a deity, but rather as a state of being and an indication of the ideal way of life. They call this "The Way" and it directs them to maintain a balance in all things, to venerate certain days of the year when the natural forces are at their strongest and gives them the knowledge required to harness the natural powers. Thus they, unlike Warmages, draw their power from the natural energy of the planet as opposed to the Outer Planes.
The intensity of a Druid's spells is tied closely to the phases of the moon, their environment, any extreme of weather and the 'balance' of good and evil. In addition, a Druid must harvest mistletoe in order to cast spells, for it is to them as a Holy Symbol is to a Cleric. Druids are also masters of shape changing and can shift into various animal forms, each of which will enhance their capabilities in different ways. However a Druid cannot wear armour, wield weapons or cast spells whilst in an animal form.
Permitted Armour: Leather & Cloth.
'Wizard in Charge: Larnen
'Deputy Wizard:
Stats
| Charisma | Constitution | Dexterity | Intelligence | Strength | Wisdom |
| --- | --- | --- | --- | --- | --- |
| Primary | Primary | Secondary | Secondary | Secondary | Primary |
Skills
| Combat | Weapons | Magic | Other |
| --- | --- | --- | --- |
| Armoury: Secondary | Blade: Secondary | Conjuring: Primary | Bargaining: Secondary |
| Attack: Secondary | Blunt: Primary | Healing: Primary | Riding: Tertiary |
| Defence: Secondary | Staff: Primary | Insight: Primary | |
| Melee: Tertiary | Thrown: Tertiary | Woodcraft: Primary | |
| Shields: Secondary | | | |
Guild Hall
Location:
Description:
Guild Features
Druid Spells
desc
| Name | Level | Stat/Skill | Description |
| --- | --- | --- | --- |
| | 0 | | |
| | 30 | | |
| | 50 | | |
| | 100 | | |
| | 125 | | |
Druid Races
Elf:
Druid Multi-Classes
Single-Class info
Druid-Cleric:
Druid-Fighter:
Druid-Monk:
Druid-Ranger:
Druid-Rogue:
Druid-Warmage: